Products
Cutting Tool / Diamond Tool Blanks
Diamond Tool Blanks
EDP fabricates tool blanks of various sizes up to 10 mm for single crystals and 25 mm for mosaic crystals.
Thickness: from 0.03mm to 3.0mm
Tolerance of laser cutting: -0.0mm/+0.3mm
Tolerance of thickness: -0.0mm

* If you have any requests for products with strict dimensional accuracy, please feel free to contact us.
* Custom shapes such as circles, triangles and combinations of arcs and straight lines are also available as your request.

Standard specifications: All 6 faces (100) faces, off angle of about 3 ° on each face

* 2-point crystals with 4 (110) faces are also available. The width of (100) face is up to 3mm.

In standard, 4 faces are laser cut surfaces with a roughness of 10 μm or more. The roughness of one remaining face is several μm, and of the last face depends on the thickness.
The products with holes, diagonal cuts, and markings are also available.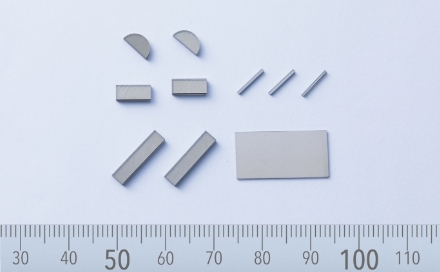 Long Edge Cutting Tools by Mosaic Crystals
EDP provides long edge tool blanks 10mm or over from mosaic crystals fabricated by our own technology.
Though these large tool blanks include mosaic crystals boundaries, there is no problem in fabricating the cutting edges used for precision cutting, and in actual cutting.
Please let me know your size request when ordering.
EDP provides tool blanks that can be applied to precision machining turning tools, dressers, dies, etc.
| Model Number | Size (mm) | Remarks |
| --- | --- | --- |
| TN105A | 10×5×1.0 | |
| TN124B | 12×4×1.2 | |
| TN104T6P | 10x4x0.6 | One face regular polishing |
| TN213A | 21x3x1.0 | |
Contact Us
Please feel free to contact us about EDP
technology and products.